Trump Says US in 'Fantastic Position' in Trade War With China
U.S. President Donald Trump, in a series of tweets posted on the morning of May 14, said the United States economy was well-positioned to succeed despite the trade dispute with China.
U.S. President Donald Trump, in a series of tweets posted on the morning of May 14, said the United States economy was well-positioned to succeed despite the trade dispute with China.

"China buys MUCH less from us than we buy from them, by almost 500 Billion Dollars, so we are in a fantastic position," Trump wrote.

"Make your product at home in the USA and there is no Tariff. You can also buy from a non-Tariffed country instead of China," he continued.

"We are now a much bigger economy than China, and have substantially increased in size since the great 2016 Election. We are the "piggy bank" that everyone wants to raid and take advantage of. NO MORE!"

On May 10, U.S. tariffs on $200 billion worth of Chinese imports were increased to 25 percent from 10 percent. In response, the Chinese Finance Ministry announced on May 13 that Beijing would raise tariffs on $60 billion of U.S. goods.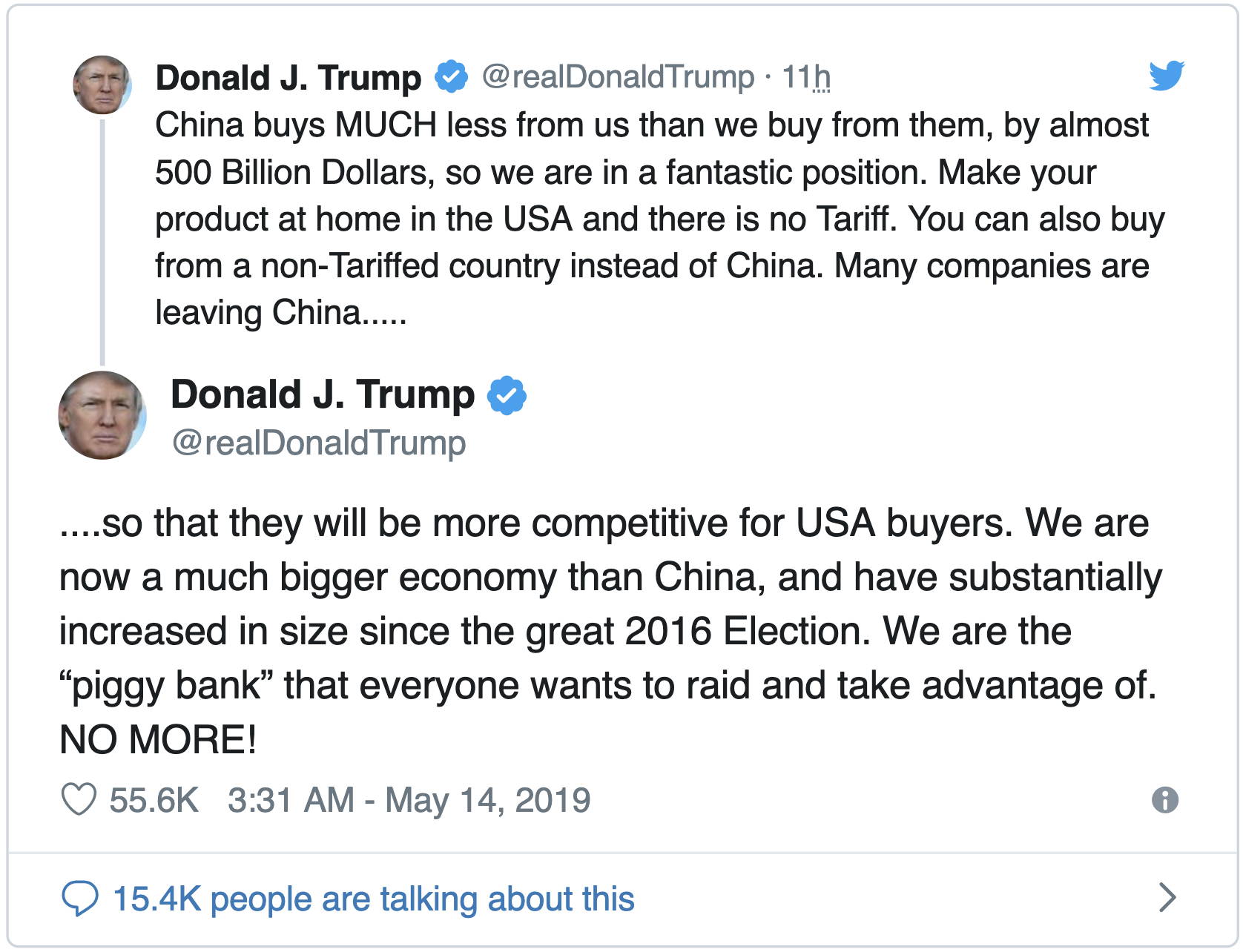 SHOW YOUR SUPPORT FOR THE USA

The U.S. tariff hike was enacted in response to the Chinese regime allegedly reneging on commitments negotiated over months of trade discussions.
According to Reuters, Beijing backtracked on commitments to change its laws on key structural issues including forced technology transfer, theft of U.S. intellectual property, and currency manipulation.

U.S. concerns over these structural issues, which the administration and analysts say cost the United States hundreds of billions of dollars a year, precipitated the trade war last March.

Last week, the two sides concluded a round of trade talks in Washington D.C. without reaching an agreement.

President Trump told reporters on May 13 that he would meet with Chinese leader Xi Jinping at the G20 summit in Japan in June, adding that he expected it would be a "fruitful meeting."

Speaking several hours later at a dinner gathering at the White House, Trump said it should be clear in "three or four weeks" if ongoing trade negotiations will yield good results.

"I have a feeling it's going to be very successful," he said.

In another pair of tweets on May 14, Trump said the United States could "make a deal with China tomorrow," and pointed to the Chinese regime's reversal.

"We can make a deal with China tomorrow, before their companies start leaving so as not to lose USA business, but the last time we were close they wanted to renegotiated the deal. No way!" Trump wrote.

"We are in a much better position now than any deal we could have made."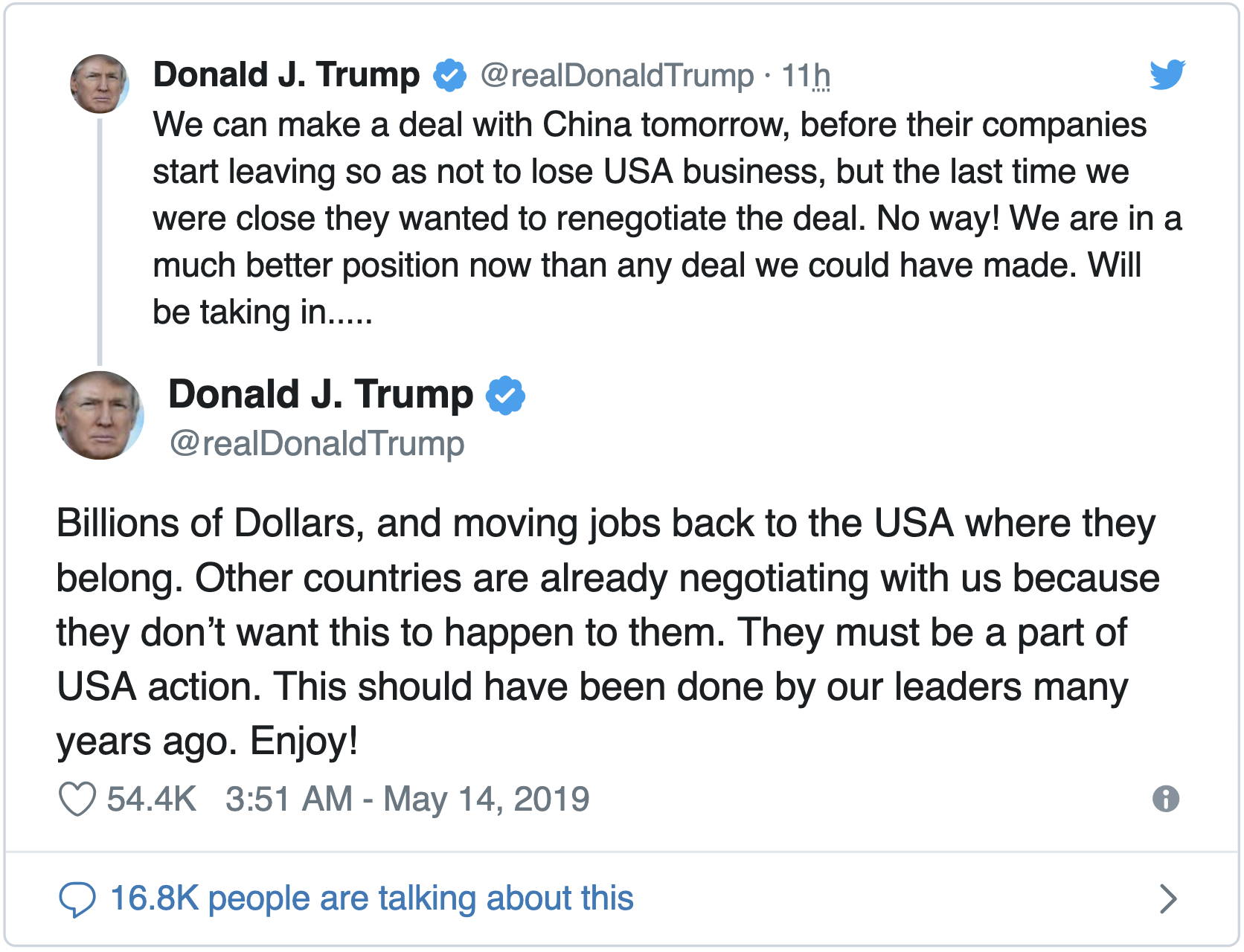 The president also acknowledged that U.S. farmers may be impacted by the trade war, saying that the administration would use income from the new levies to support the farmers.

Prior to the trade dispute, China was a major buyer of U.S. soybeans grown in heartland states. Purchases dropped significantly last year after China imposed retaliatory tariffs on U.S. agricultural products.
"Our great Patriot Farmers will be one of the biggest beneficiaries of what is happening now. Hopefully China will do us the honor of continuing to buy our great farm product, the best, but if not your country will be making up the difference," Trump wrote.
"This money will come from the massive Tariffs being paid to the United States for allowing China, and others, to do business with us."
U.S. Agriculture Secretary Sonny Perdue said on May 10 that Trump had asked him to create a plan for supporting farmers. The agricultural department has already rolled out roughly $12 billion to help offset farmers' China-related losses.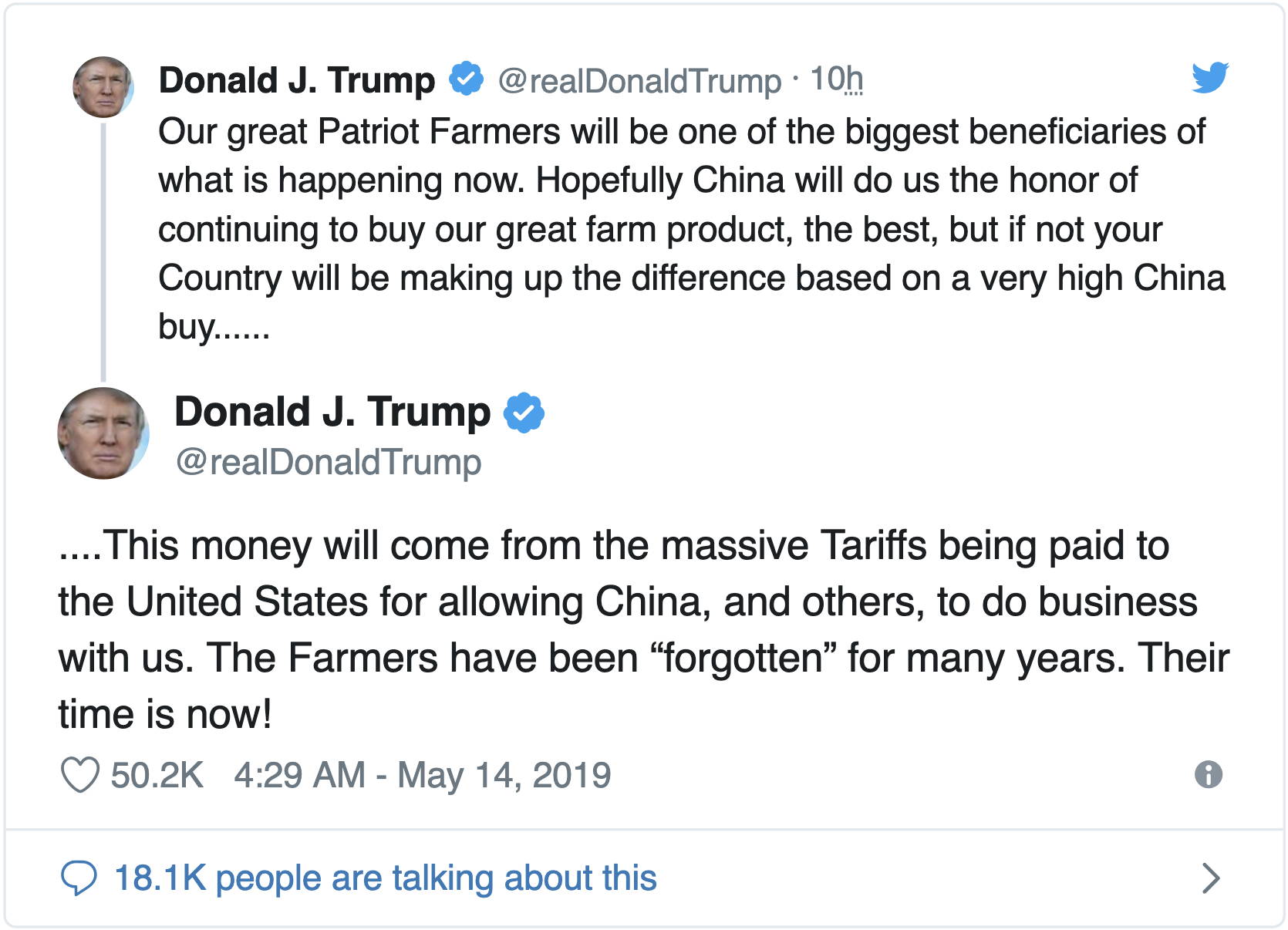 U.S. lawmakers from both parties have expressed support for Trump's hard stance against the Chinese regime.

In response to Trump's surprise announcement of tariff hikes last week, Senate Minority Leader Chuck Schumer (D-NY) tweeted on May 5 that Trump should "hang tough on China," and not back down.

"Strength is the only way to win with China," Schumer said.

Senator Marco Rubio (R-Fl), in a tweet on May 11, said that China's threat to retaliate against U.S. tariff hikes paled in comparison to their current unfair trade practices against U.S. companies.

"They [the Chinese regime] already steal intellectual property, block U.S. companies from doing business in China & give massive government support to Chinese companies," he wrote.

In another tweet on May 13, Rubio acknowledged that the trade war will cause economic pain, "but so too will returning to the status quo."

"And surrendering to China will cause long term & permanent economic devastation."