Trump says he expects trade gap with Japan to be 'straightened out rapidly'
"Trade-wise, I think we'll be announcing some things, probably in August that will be very good for both countries," U.S.

U.S. President Donald Trump said Monday he expects to get the trade gap with Japan "straightened out rapidly," adding that announcements on that could come as soon as August.

Trump was speaking ahead of his meeting with Japanese Prime Minister Shinzo Abe in Tokyo, as the American president embarked on a state visit amid looming trade issues between the two countries.
"Trade-wise, I think we'll be announcing some things, probably in August that will be very good for both countries," Trump said, according to Reuters. "We'll get the balance of trade, I think, straightened out rapidly."
According to the U.S. Trade Representative, the U.S. had a deficit of $56.8 billion in goods and services with Japan in 2018.

The president's state visit comes amid tensions with carmaker Toyota over potential auto tariffs. Trump has repeatedly threatened Japanese and European carmakers with tariffs.
But earlier in Mar, Trump delayed a decision on car levies for up to six months and directed U.S. Trade Representative Robert Lighthizer to seek trade agreements with Tokyo and Brussels.

Still, the president ratcheted up pressure on Japan the first day he arrived, saying on Saturday that "Japan has had a substantial advantage for many, many years. " He also called on Japanese businesses to invest more in the United States.

"President Trump ... would like to claim credit for some progress on trade — whether it's agriculture or products or automobiles, but he can wait because his election isn't till November next year, " said Glen Fukushima, former deputy assistant of United States Trade Representative for Japan and China during Ronald Reagan's administration told CNBC on Monday.

Trump had previously said he did not expect major progress until July, when Abe's ruling bloc faces an election for parliament's upper house.

"Trump and Abe have established a good relationship. Both have been relying on each other to help them domestically," said Fukushima, who is now senior fellow at the Center for American Progress think tank.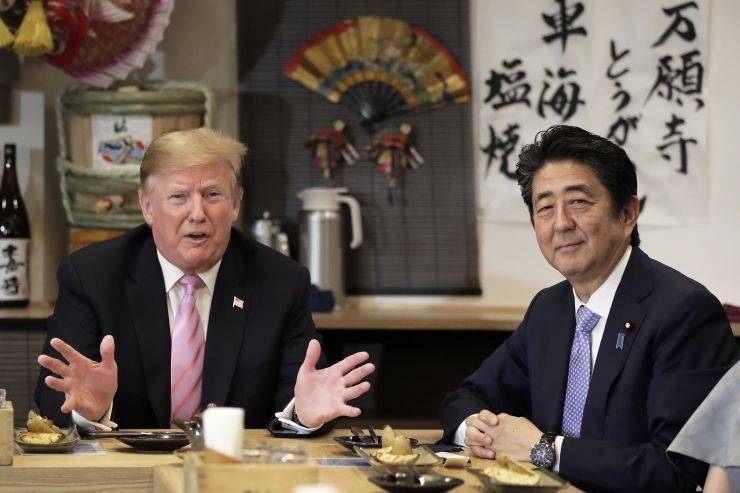 Meanwhile, Trump's state visit to Japan has been marked with pomp and ceremony, with the U.S. president meeting Japan's new Emperor Naruhito and Empress Masako on Monday — making him the first foreign dignitary to be received by the monarch since he inherited the throne earlier this month.

On Sunday, Trump watched Japanese national sport of sumo with Abe after the two bonded over hamburgers and golf.

"This visit is all about symbolism," said Tomohiko Taniguchi, a special advisor to Abe's cabinet.

"Because (among) the various audience that the newly-enthroned emperor has given to any foreign visitors is to the president of the United States — that itself bears significance," said Taniguchi, who is professor at the graduate school of SDM, Keio University.

Although the trade talks are important, the rapport and camaraderie among leaders of the two counties are just as significant, he noted, saying that Japan and U.S. have had a warm relationship even before the current Trump administration.According to Fukushima, Abe has "figured out" the American president's psychology.

Trump "is someone who has a very big opinion of himself, and he loves to be the president who is the first to do things — so, the first to be the American president to go to the sumo tournament, the first person to see the new emperor," said Fukushima.

"Abe has figured out the President Trump's psychology quite well and therefore, he is providing the red carpet treatment, the pomp and circumstance that Trump really enjoys," he said.

The United States is currently in the middle of an expensive trade war with China, as Washington protests against Beijing's treatment of U.S. companies, even as tensions with Japan and the European Union over trade simmer.
Original post can be found at
CNBC