Republicans Calls for Democrats to 'Move On' After Mueller Statement
Key Republican figures have urged the Democrats to move on following special counsel Robert Mueller's first and likely last public statement on the Russia investigation on May 29.

Speaking to reporters at the Justice Department (DOJ), Mueller formally announced an end to the Russia investigation as well as his resignation at the department. He added that he would not make further comments about the investigation and said anyone with further inquiries about the probe should refer to his more than 400-page report as his testimony.

Following Mueller's remarks, Republicans took to social media to react to the special counsel's comments, while calling on Democrats to move on from the investigation to deal with more important national issues.Following Mueller's remarks, Republicans took to social media to react to the special counsel's comments, while calling on Democrats to move on from the investigation to deal with more important national issues.

"Today's statement by Mr. Mueller reinforces the findings of his report. And as for me, the case is over. Mr. Mueller has decided to move on and let the report speak for itself. Congress should follow his lead," Senate Judiciary Committee Chairman Lindsey Graham (R-S.C.) said in a series of tweets.
"I particularly appreciate Special Counsel Mueller's statement today acknowledging that Attorney General Barr has made the report as transparent as possible, and the American people can largely read the report for themselves," Graham also said.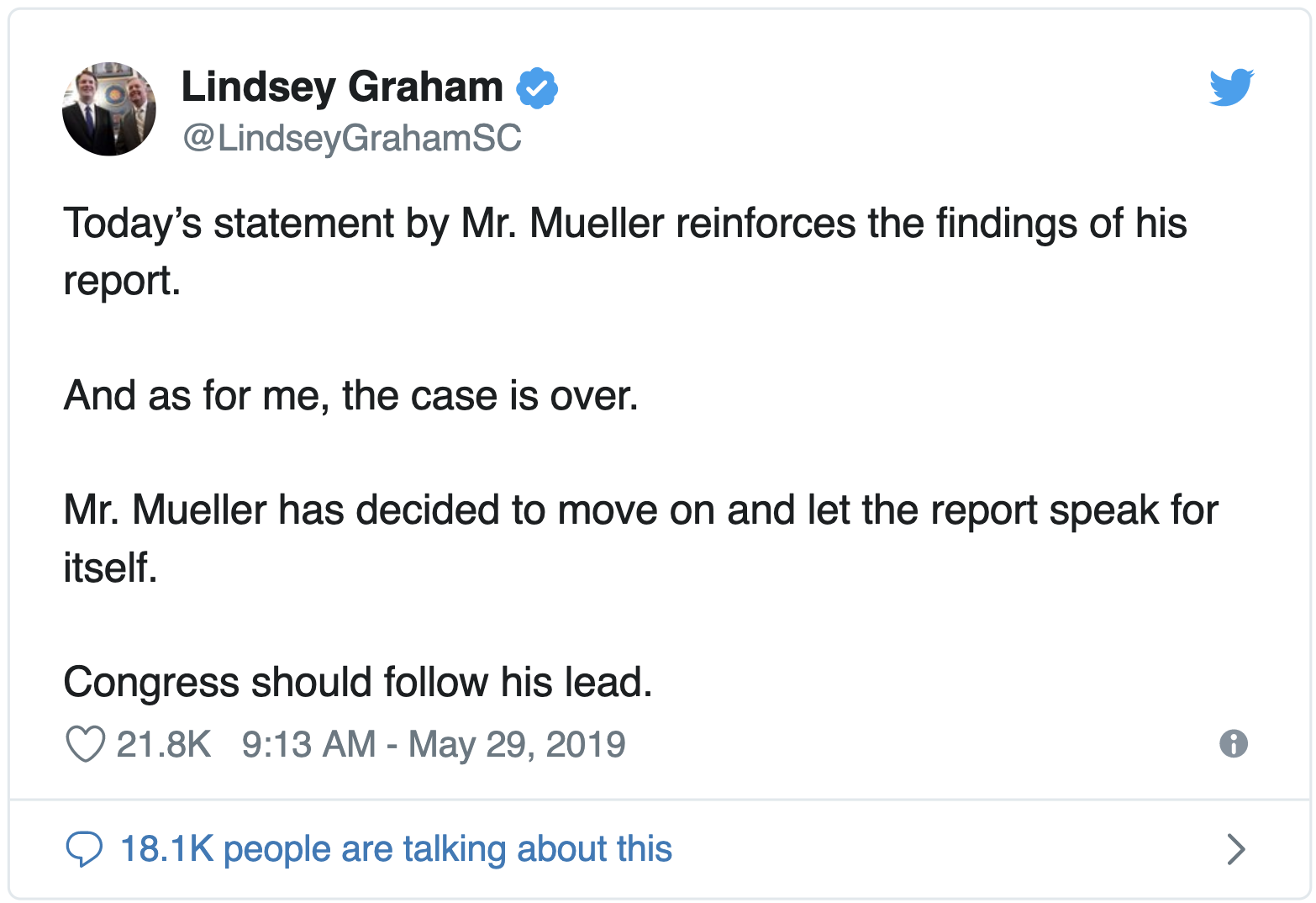 Other congressmen made similar observations.
"9 minute and 39 second press conference. Same conclusions. No new information. Time to move on," Rep. Jim Jordan (R-Ohio) said.

"Special Counsel Mueller confirmed today what we knew months ago when his report was released: There was no collusion and no obstruction. Relitigating the 2016 election and reinvestigating the special counsel's findings will only further divide our country," Rep. Doug Collins (R-Ga.) wrote.

White House Press Secretary Sarah Sanders also posted a statement to Twitter on Mueller's remarks.

"The Special Counsel has completed the investigation, closed his office, and has closed the case. Mr. Mueller explicitly said that he has nothing to add beyond the report, and therefore, does not plan to testify before Congress. The report was clear – there was no collusion, no conspiracy – and the Department of Justice confirmed there was no obstruction. Special Counsel Mueller also stated that Attorney General Barr acted in good faith in his handling of the report," Sanders said.

"After two years, the Special Counsel is moving on with his life, and everyone else should do the same," she added.
The National Press Secretary for President Donald Trump's 2020 campaign, Kayleigh McEnany, also released a statement on behalf of the campaign, saying in part, "Now it's time to turn to the origins of the Russia hoax and get to the bottom of why the Trump campaign was spied on by the Obama-era DOJ and FBI."
Donald Trump Jr. also weighed in on Mueller's remarks, listing the items that the special counsel's statement did not change.

"Things that didn't change today: – There was no collusion – There was no obstruction – The entire foundation of the 'investigation' was based on lies – Comey is still a leaker – Trump is still President – The country is stronger/safer/more prosperous than perhaps ever before," he said.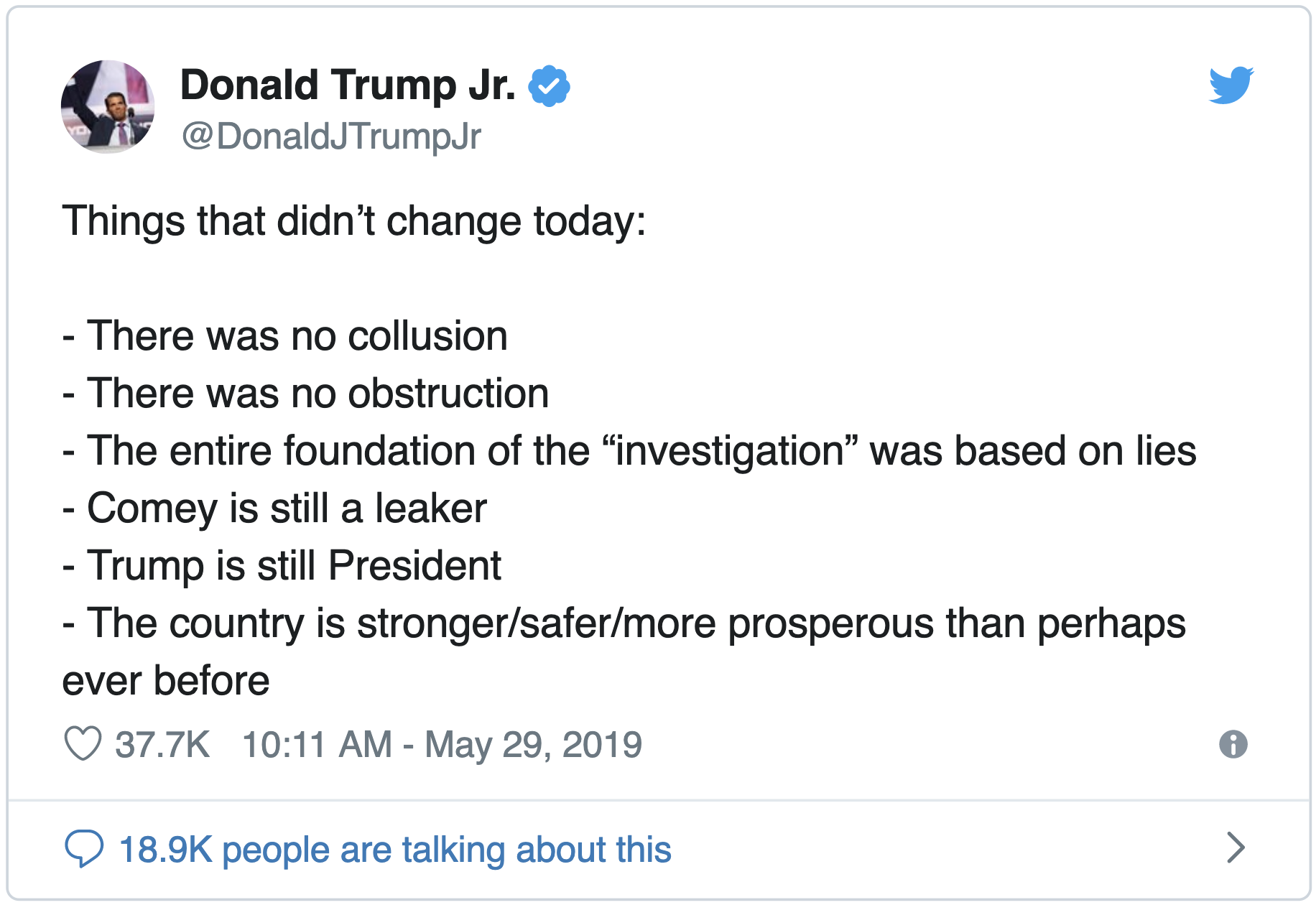 Meanwhile, Republican National Committee Chairwoman Ronna McDaniel called for Congress to start addressing important issues, while replying to Rep. Justin Amash (R-Mich.), the lone Republican who has libertarian views and has been critical of Trump.

"You're right, Justin. Instead of grandstanding, there's a LOT of work Congress (you) can do. You can start with: *ratifying #USMCA *funding border security *merit-based immigration reform *an infrastructure bill *passing legislation to lower drug prices," McDaniel said.

In his remarks, Mueller also clarified why his office did not decide whether to bring an obstruction of justice charge against the president. He said the decision was influenced by a DOJ policy which prohibits charging a sitting president with a federal crime, adding that the special counsel refrained from making a determination out of a desire to be fair to the president.
"And beyond department policy, we were guided by the principle of fairness. It would be unfair to potentially accuse somebody of a crime when there can be no court resolution of the actual charge," Mueller said.

"Charging the president with a crime was therefore not an option we could consider," he added. "That is the office's final position and we will not comment on any other conclusions or hypotheticals about the president."

Responding to Mueller, Trump said, "Nothing changes from the Mueller Report."

"There was insufficient evidence and therefore, in our Country, a person is innocent. The case is closed! Thank you," he added.